AVATAR → 45
Lots of Katara and Sokka, along with some Toph, Aang, and duos :3 Also, 20 shipping/friendshipping text icons.

For the shipping & friendshipping icons, obviously I couldn't cover every friendship and pairing (I already know I left some significant ones out) but hey, hopefully you'll find your duo of choice in there :D


| | | | | |
| --- | --- | --- | --- | --- |
| 1 | 2 | 3 | 4 | 5 |
| | | | | |
| 6 | 7 | 8 | 9 | 10 |
| | | | | |
| 11 | 12 | 13 | 14 | 15 |
| | | | | |
| 16 | 17 | 18 | 19 | 20 |
| | | | | |
| 21 | 22 | 23 | 24 | 25 |
| | | | | |
| | | | |
| --- | --- | --- | --- |
| 1 | 2 | 3 | 4 |
| | | | |
| 5 | 6 | 7 | 8 |
| | | | |
| 9 | 10 | 11 | 12 |
| | | | |




Note: Since I used a wide number of different textures as backgrounds for the text icons, from a wide number of different sets, I can't align each one to the texture-maker. However, check out my resources post if you want an idea of where I get my textures; also, if I'm using a texture you made but you don't see your journal credited in that post, please tell me and I'll fix it ASAP.

GUNDAM 00 → 6 + 2 FO banners
Al Sarshes, Setsuna, and Acre. And 2 four-pilot FO banners.



FRIENDS-ONLY BANNERS: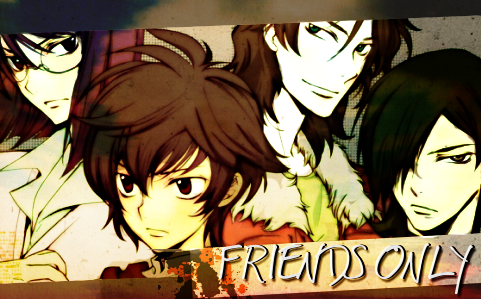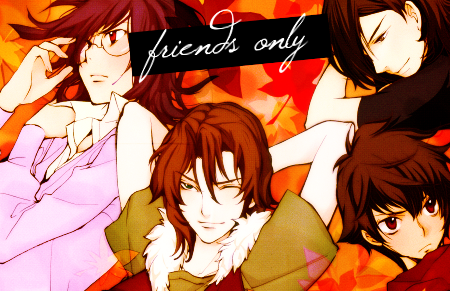 DEATH NOTE → 15
Lots of Light, along with some Misa, Mello and Near.

SPECIAL NOTE ABOUT CREDIT: Icons 11-15 are cropped from fanarts from here. If you snag any of those icons, PLEASE BE SURE TO CREDIT THE FANARTIST. I don't care if you credit me, but in the keywords put a note along the lines of "from a farant by http://www.zero.abz.jp/zeke/" or somesuch, okay? <3 Thanks.


| | | | | |
| --- | --- | --- | --- | --- |
| 1 | 2 | 3 | 4 | 5 |
| | | | | |
| 6 | 7 | 8 | 9 | 10 |
| | | | | |
| 11 | 12 | 13 | 14 | 15 |
| | | | | |


GUNDAM WING (Episode Zero manga)→ 6
All from Trowa's Episode Zero manga chapter, of Midii Une.



My resources can be found here. If you think I'm using a texture/brush/etc. which you made but I don't have you credited there, please drop me a line and I'll be sure to correct it <3

For all icons...; please DON'T HOTLINK. Credit and comments are nice, but I'm not too concerned with either. Also, when saving and downloading the icons, I suggest saving them as their original .png forms, okay? It keeps the quality of the icons :D